Visit Center Center

On Tuesday, 14-02-2017 we had the opportunity to look at the building at the Botersloot 187. Here were the Centers Rt-C11, Rt-C 12/13 , Rt-C14 and Rt-C33 are installed. When replacing these AGF and ARF power stations, this became Rt-C A, Rt-C F / G, Rt-C D and Rt-C E. Unfortunately, this time is over and the current power stations are disassembled and taken over by servers Which are placed in the basement.
To give you a picture of the Main Divider (for the older one, this was the crossbreed), some corridors and the Cable Cellar, Joop Nijs made some pictures. Some can be found below.
Exhibition Solar House 07-01-2017 to 17-02-2017

At Hans Noordhoek a while ago, he was asked whether he had an old telephone for the central hall showroom, from the nursing home for the solar home flaws (where he was also volunteered). His reaction was "I can fill a whole showcase". So from the one came the other and we as a museum could provide this entire display with telecommunications means. We chose to put down recognizable items for residents, thinking of old phones, the wire broadcasting, Telex, Fax, control devices, etc.
We started the decoration on Monday 02-01-2017 and on Saturday 07-01-2017 it is opened. This stays for 6 weeks. The interest and interest of residents and visitors are very high. We are therefore pleased and proud to do so.
The pictures below show an image of the exhibition.
Rotterdamdag 2016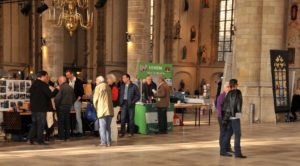 On Saturday, October 29, 2016, a Rotteam day was organized for the 38th time. As a location, the Laurenskerk was again chosen at Grotekerkplein 27 in Rotterdam. This lauren church has a long history and was built between 1449 and 1525. During this day, many volunteer organizations present themselves through photos, books, presentations, information, etc.
As a museum we were of course again. We have been able to get to know the map on many of our visitors. There was a lot of interest in our heritage. This is partly due to the enthusiasm of Toos Vink and Peter Vroegh.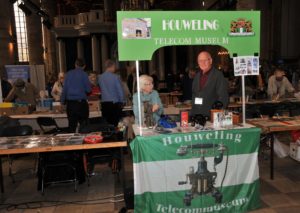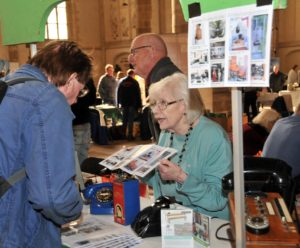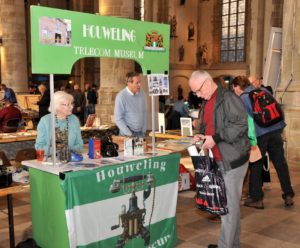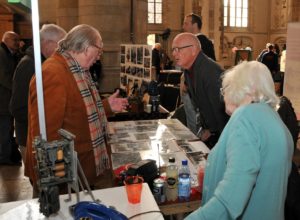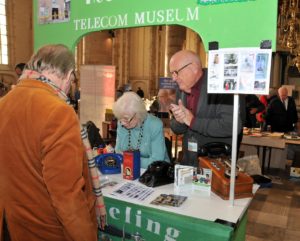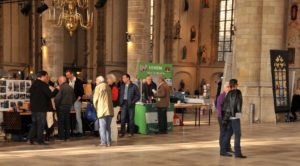 Congress Back to the Future 27-10-2016
On Thursday, 27-10-2016, the conference "Back to the Future" was organized by the municipality of Rotterdam for the top management (directors, heads of departments and team heads) of the municipality of Rotterdam. This manager has an important role in this organization, connecting the themes, and developing themselves. During the program, the present is taken from the past to the future and back to the present.
We were asked to participate in this subject as a special subject. The Telex (Far away Writer) Koos Vennik and Peter Vroegh were present as specialists and have been able to tell the visitors a lot about the writing information that was active from 1933 to 2007.
Through the newsletter we informed members and volunteers about the progress of the refurbishment of the museum. We can tell you that a lot has already been done. To make this happen to you, we have made some movie images. See link Houweling Telecom Museum 2016
Of course we go on with good and concrete steps.
But now only the following:
Speech Chairman VOMKPNRR Jan van Werkhoven, meeting day, 19 October 2016 </ strong>
Maximum aantal tekens is overschreden
5000/5000
199 tekens meer dan het maximum aantal van 5000:
NOCO op deze verdieping.   Wat staat er voor dit jaar 2016 verder op het programma mbt de herinrichting van het museum: Het verder inrichten van Box 1, communicatie.
Ladies and gentlemen,
Finally, it has been possible to use an intelligent sound system on this 17th meeting day. I hope you can understand me right now.
We are today with 236 participants
Our members who, for health reasons, can not be present, I wish for improvement from this place.
On behalf of the board, I would like to welcome you, especially our new members, including the chairman of PVKPN, Mrs. Saskia van Es, who will speak to us as soon as possible.
She has recently visited our Houweling Telecommuseum, also the chief executive officer Jan Kees de Jager, of the board of directors of KPN.
They were exceptionally enthusiastic and interested in our exceptional collection, especially Jan Kees de Jager, CFO Chief Financial Officer
He is so enthusiastic that it is decided that a dependance, "a so-called experimental center", is being set up at the South Tower, at the new headquarters of the Htm. Our association has been asked to cooperate in setting up this experia center.
We like to work with you here.
As a board of directors, we acknowledge it to assist you, certainly in a field of work in which you have all contributed.
As you know, we have the largest telecommunications museum in the Netherlands in our former district, with working equipment. The many volunteers who make an effort to keep the museum running and improving are invaluable for telecommunications history. Currently more than 30 volunteers.
The many visitors 646 x from among others active sections of KPN, who use the bunker, speak with tours for themselves. The website has been visited 11000 times.
This bunker, which is equipped with reception space and Soos, is equipped with all audiovisual means. The combination Vom KPN, the Houweling museum, and the bunker is a success formula.
Again, I invite you to visit and to walk for free in our museum with many interesting new items, such as UPCON, phone books etc. Our hostesses and coaches are striving to meet you. Every Tuesday they are ready for you.
Despite a decline in our membership, due to the course of course, we have a thriving association, which may be evidenced by the many activities in the past period, organized by our activities committee.
This afternoon you can take a slide show of the last surprise tour organized by our activities committee, see in the ORINOCO movie room, created by Ms. Janzen.
Also, John Oordt will present a presentation about Rotterdam this afternoon, and I can also recommend this to you very much
This presentation also gave John to the association of former employees Waalwijk and Tilburg, of which we could organize their annual meeting day.
Also, under your attention, I bring the many short films that our film club has edited, and to be seen in the museum.
The movies sometimes go so far back to a period that we still had to work 48 hours a week and 6 days. The elderly, especially the 75 plus people among us, have still experienced this.
Also the number of holiday days was very limited, not yet 2 weeks, currently 5 weeks.
There were separate canteens, for mechanics and office staff.
Dismissal was not dealt with, except if the small cashier did not knock for 15 guilders, or if a woman got married then did this resignation mean?
A permanent appointment was obtained after 5 years, promotion to a technician only at the age of 23, engineer 1 with a degree examination not earlier than 27 years.
Weekly wages were paid, with the cashier turning the coins with the cups upwards.
Regular inspection took place, or the home-made screwdrivers were still present. I understood that if an inspection was announced to a welding team, for example, the missing inventory was modified by other teams, which could hardly be done because of lack of tools.
The craftsmen were sent to the subscribers by hand and curry, the mechanics had stripes on their cap.
How good old time !!
I dare to say that our generation, more than other generations, has experienced incredible changes in recent years. Hence these considerations. And it goes without saying, Perhaps this is a robot that holds the speech for a couple of years !!!
This 17th meeting day provides a need to retrieve memories as well as other years, and look back at a company we are proud of, with great fellow friends, friends.
I hope this meeting meets your expectations again, so I wish you a nice day.
*** Yet another communication of a household nature,
The presentation of John Oordt Rotterdam starts at 2.30 pm, the slide show starts at 4.30 pm in the ORI movie room
What's on the program for the redevelopment of the museum in 2016? </ Strong> </ em>
Further setting up Box 1, communication.
The load from the hall has been moved to another room and this space will be further configured with cable interruptions, cable locking drawings, cable tools, etc.)
Inside the museum we have many old and up-to-date mobile devices offered to our customers over time. These have we brought together and will show them to you by network / supplier.
In addition, the transmission angle is being worked hard. Herein both the old and the current techniques will be visible to you.
Wijnand Nouwels </ em>
In order to visualize what we realized in 2016, recordings have been made. These can be seen through links link.
Successful job for "The 20th Century Museum" </ strong> </ span>
In January 2015, we received from "The Museum of the 20th Century" in Hoorn the question of whether we wanted to check and make a wall crest post. This museum shows all the objects of the last century, sometimes as an equipped Living room for a certain period or clustered by type. So there is a showcase telephony that already has a covenant post that was donated by the Houweling Telecommuseum. Currently there is an exhibition about Playmobil and temporarily a collection of Barbie dolls and collection of old gramophones. The wall cords post Gets a place in the museum and it is meant that the children can play on this post "Telefonistje".
Dick Onderdelinde kept busy with the post due to the fact that the mail was in a deplorable state. With Peter Vroegh's further help, however, it has been possible to connect two devices by mail.
On August 13, Dick and Hans Noordhoek brought the post to the 20th century e </ sup> century and demonstrated to the volunteers there. Thank you Dick and I for a tour of the truly beautiful museum. So do not hesitate to visit this nice and especially educational museum in Noord Holland near Hoorn.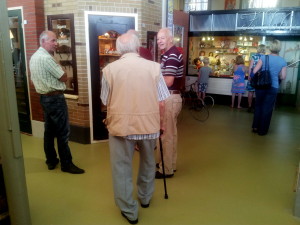 About the Ossenkop Norm 51. </ Span> </ strong>
Since my start at the PTT business school, I began to be interested in the "telephone set". My father always told him that in the attic at the Gasfabriek in Schiedam there were old phones from the old house building of the town hall.
After long sighs he brought them along, unrecognizable by the dust, but after some brushing, three wooden ones appeared, say line choirs from the Dutch Household Society.
After that, the interest was awakened and I really started collecting. The following was a Belgian; I had to pick up that personally at the Tire in Antwerp.
Once in the field of service, I could arrange some arrangements with the boys of the outside service; I repaired a radio and got a nice old phone as a rescue.
A big boost was the black little pocketbook for monitors who also included pictures, now I knew what to look for.
And so it came to my mind that I was looking for an unopened Ossenkop; A Siemens & amp; Halogen device from the 30s whose dial is locked when the handset is on the hook. That block was necessary because the device caused malfunctions in the power unit when the dial was rotated without the hook being removed. However, in 1951, the wiring of these devices changed, and then on the left side with a sticker "Standard 51".
An unopened Ossenkop has thus become quite rare.
In the 1970s, the nostalgia struck a lot and that was my happiness; At the flea market under the Railroad Adventures, then, everything was found.
When my wife had to do an exam in Rotterdam on a Saturday, I went to the flea market and yes, there was one without a sticker so it was not converted. A further feature was that the cord to the horn was elastic.
"What does this cost?" I asked the seller "Just four decades" was the answer and that was quite expensive at that time. I picked up the device and tried to turn the dial and yes, my luck did not get a move.
The seller saw that and asked: "Hold down the dial?" To call me "Okay, give me two tens".
Sometimes it is part of the collector's life; It's still one of the nicest devices in my collection.
News from 11-06-2014
Telephone cabaret Mark of the Veerdonk. </ Strong>
Who does not know him, Mark van Veerdonk, cabaretier famous in south, east and north of the Netherlands. He won the Leids Cabaret Festival in 1991, but Mark is never seen in all the big halls and on television. Meanwhile, Mark has made 13 shows in the theaters with great success.
For his last show "Weltebarsten" he could not find a straight line in the jokes and anecdotes already written, so he went backpacking in South England. In walking in one of these villages he saw such a beautiful old red telephone box, and There was then the theme communication.
Back in the Netherlands, Mark visited our museum to find out how such a cell collapses and how big they are. A decorator then built the Brinkman and van der Vlugt cell, which during the performance shows not only a cell phone but a whole house, even a kitchen.
After a year and a half playing the show, the cell is no longer needed and has
Markhem, as a thank you for our help at the start of the show, was given to us.
He is now showing off in the hall of our museum, just as he was used during the performance.
When Mark van Veerdonk plays with you in the vicinity, I recommend to visit his show, the shows are hilarious, surprising and creative or look at his website. http://www.markvandeveerdonk.nl/web/
On the picture from left to right, Mark van de Veerdonk, Peter Vroegh and Hans Noordhoek at the transfer of the cell at the Houweling Telecommuseum.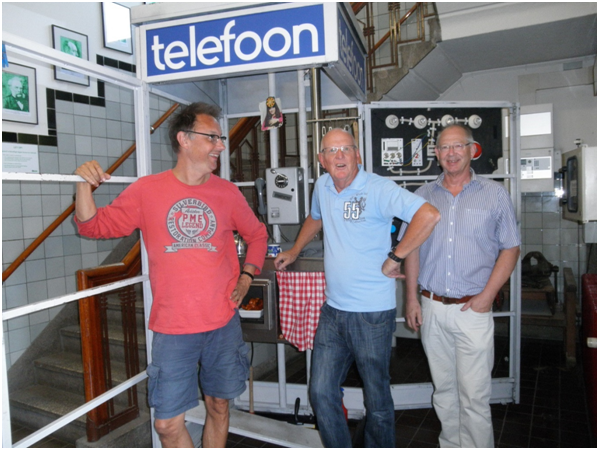 News 12-03-2016
Multifunctional space. </ Strong>
In the courtyard of the Rotterdam North Telephone Center is a building that is always called the Bunker by KPN's employees.
This solid building with thick concrete walls and roof was placed briefly in the 2 e </ sup> world war as emergency room for the telephone exchange and in the war as a residence for German soldiers who had to guard the central station.
After the war, it had various functions such as sports room for business school students, as cable locker room and lastly a KPN department that made use of cable storage and staff space until 2012. When this was empty, VOMKPN RR requested KPN to use this space for multiple purposes.
Fortunately, KPN decided to leave this space part of the museum and the VOMKPNRR. In the meantime, many KPN departments have been able to find this space as a meeting venue and can combine with a tour within the museum. Really always a success.