What to see in the museum:



Antique phoneAll many old phones and telephone handsets 17 working telephones, telex, fax, radio distribution, clocks, cables and cable and measurement equipment.
On Tuesdays, admission is free, for other days a small fee will be charged. You can make an appointment with Hans Noordhoek, phone 0653 77 35 99 or mail info@houwelingtelecommuseum.nl.
And also very important to you, you can park for free with us on site.
Our museum also has (old) equipment available for movie locations and advertising photos.
Tuesday 26-01-2016 has visited our museum from www.denieuwspeper.nl. Hans has been able to do his beautiful story. This information is written on their site. We have been able to copy this information so that this information is readable to you too.
Houweling Telecommuseum in Noord breathes nostalgia.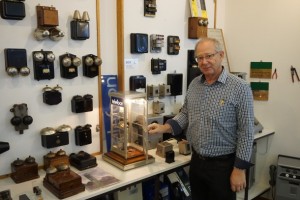 Many may name a number of Rotterdam museums by name: Boijmans, the Kunsthal, the World Museum and the Maritime Museum are well-known. But the city also has less famous special museums. For example, the Houweling Telecommuseum in Noord, where the history of the PTT in Rotterdam revives.
PTT: Digging Pit, T In dutch "building a tent", T (Sleeping) In dutch "to do aTukkie".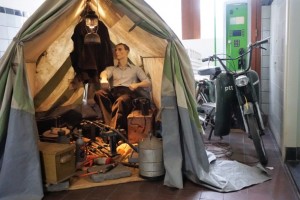 The museum houses a 1923 industrial building on the Vlaggemanstraat. "It was built as a telephone exchange for Rotterdam North at the time, and it is still there. Houweling in the name refers to the former director, "says museum director Hans Noordhoek. "Since the digitization, the modern telephone exchange has not seen much more. This central station is in another part of the building. '
Telexes The rest of the building exudes nostalgia. The development of Rotterdam's telephony is shown for many decades. It is packed with old and modern telephones, power stations, telexes, cables, measuring equipment, tools and clothing from the period 1880 to the present. What strikes is that everything is still working in detail. Director Noordhoek: 'That does not happen to our volunteers. There is nothing left behind here, so you can call your heart. "
Hans Noordhoek scrolls through an old telephone book of Rotterdam.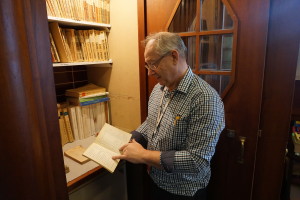 The museum is run by fifteen volunteers. 'All old PTTs and KPNs. With my 67 I'm one of the youngest. I have worked for the company forty years. First at telephone exchanges and later in the training. '
Noordhoek Palace Network points to one of the many old-fashioned turntable phones in the museum hall. "That's the device of the then young princess Beatrix at Castle Drakensteyn. Look at the parson numbers of the palace network, for example, from Soestdijk Palace and the Prime Minister. "Another showpiece of the extensive collection is an old city center telephone exchange. "This served between 1948 and 1974."
The central service station from Rotterdam city hall.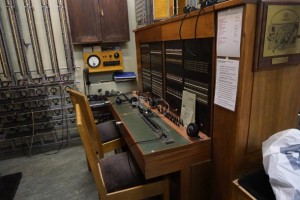 The museum attracts between 600 and 800 visitors each year. To a large extent, PTT or KPN's former employees. "They are nostalgic. In addition, we are only open on Tuesdays. For groups, an appointment can be made separately. '
Access is free for every Tuesday. .
But as many of you know – there is everything to see and experience.
Interview for Radio The Hague
Monday, February 29, 2016, an interview was held with Radio The Hague. This is because of the temporary closing of the MusCom (Museum for Communication) via the link below to listen to the broadcast.
Broadcasting TV Rotterdam Noord
This information can be seen and heard after selecting "Open this content in a new window"
Visit Jan Kees de Jager
Wednesday, 12 August 2015, we received a visit from Jan Kees de Jager, the former finance minister and now the responsible man for the financial policy within KPN. His visit was a great success and he was very excited. He also wrote something in our guestbook, which you can read on this website. See item guestbook (specifically "Comments 2015" / and then look at halfway through the written items to August 12). Jan van Werkhoven, Hans Noordhoek and Wijnand Nouwels were allowed to visit him in our museum.
The museum will also be mentioned in the shopping guide Rotterdam Noord from 2015 on page 53. For a look in the guide, click Shopping Guide.